Research
I am a member and qualified author of the ATLAS Collaboration. I work on experimental analysis of Standard Model Higgs bosons in the process ttH(H→bb) in ATLAS at the LHC. This involves keen physics analysis, development of extensive analysis framework software and use of state-of-the-art machine learning techniques. The search for ttH was successful, with

discovery of the process published in 2018

.

Through my Ph.D. and ~2 year long term attachment at CERN, I engaged in physics analysis in the HTop group, was a lead developer of the ttH(H→bb) analysis framework, completed ATLAS control room work, including IBL commissioning, was a member of the Athena Job transforms group, and I have engaged in extensive teaching, tutoring and outreach activities, including provision of research guidance to Ph.D. and undergraduate students. I'm passionate about frontiers of fundamental physics, state-of-the-art machine learning techniques, teaching and open source software.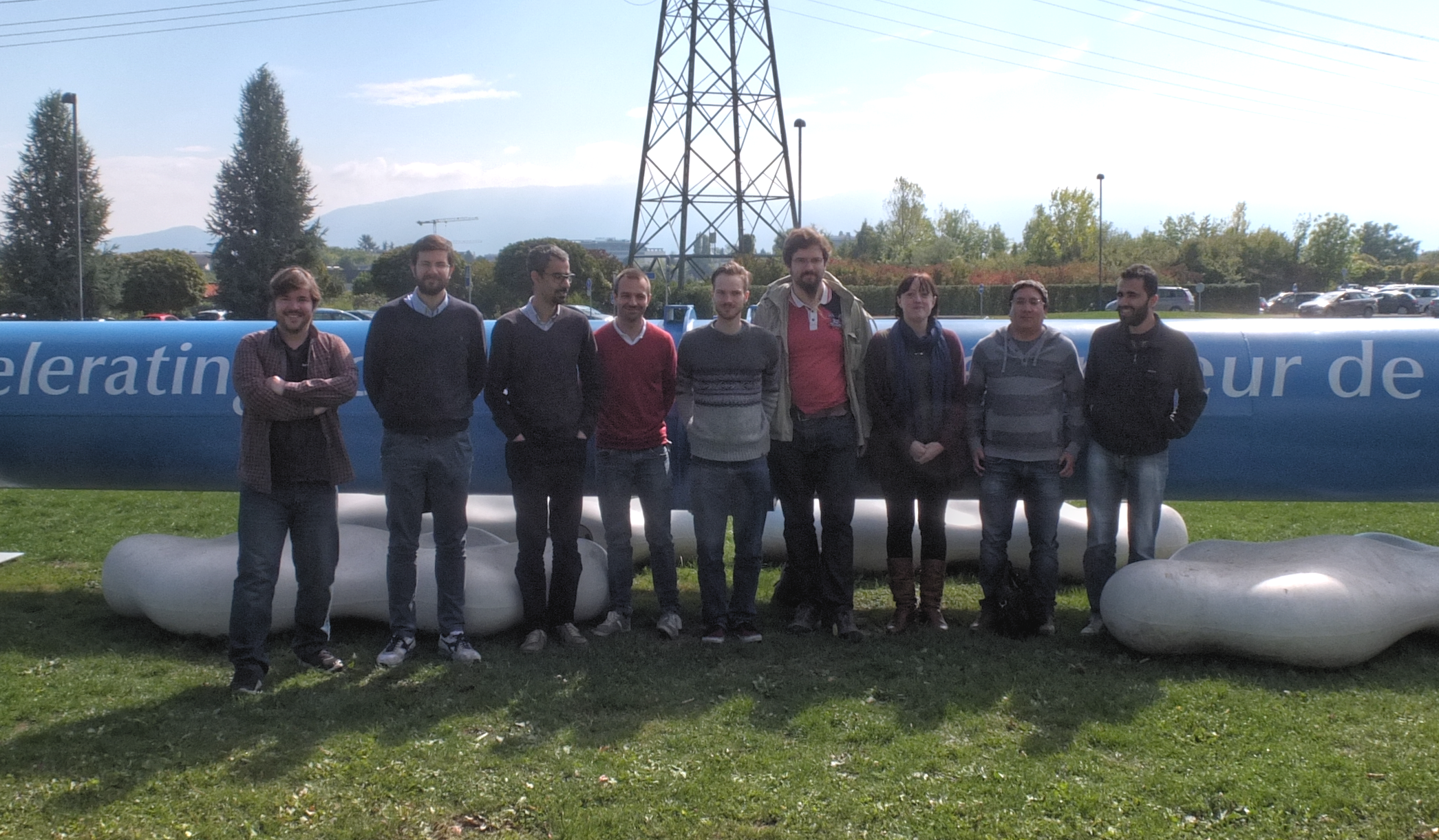 TTHbbLeptonic Run-2 analysis framework
development team (and a
video
of how we work)
Teaching and tutoring
Physics and computing courses I have taught include the following:
University of Glasgow: Theoretical Physics 3 (TP3) Computing Laboratory

Karlsruhe Institute of Technology: GridKa School C++ Concurrency
Outreach
I'm always happy to talk about my research, the latest news in particle physics and machine learning and have done so on many occasions, in everything from presenting to prospective students to talking with BBC TV Scotland. Examples include outreach at the Scottish Parliament as part of the LHC on Tour exhibit, giving tours at CERN (including to Rick Field, one of the inventors of particle physics jets), and meeting with the Scottish government delegation of Science Minister Alasdair Allan and with the Irish government delegation of Dermot Mulligan, Assistant Secretary General/Head of the Innovation and Investment Division of the Department of Jobs, Enterprise and Innovation, in order to forward Irish membership of CERN (Joining CERN is now the endorsed position of Oireachtas Éireann).




Selected publications
Recent status of ttH(bb):

Measurement of Higgs boson decay into b-quarks in associated production with a top-quark pair in pp collisions at √s = 13 TeV with the ATLAS detector, The ATLAS Collaboration, ATLAS-CONF-2020-058
Discovery of ttH:

Observation of Higgs boson production in association with a top quark pair at the LHC with the ATLAS detector, Physics Letters B, 784, 2018, The ATLAS Collaboration, CERN-EP-2017-291, 10.1016/j.physletb.2018.07.035
Evidence of ttH:

Search for the standard model Higgs boson produced in association with top quarks and decaying into a bb pair in pp collisions at √s = 13 TeV with the ATLAS detector, Physical Review D, 97 (7), 2018, The ATLAS Collaboration, CERN-EP-2017-291, 10.1103/PhysRevD.97.072016
Search for the Standard Model Higgs boson produced in association with top quarks and decaying into bb̄ in pp collisions at √s = 13 TeV with the ATLAS detector, 60 ATLAS authors, ATL-COM-PHYS-2016-116
Search for the Standard Model Higgs boson produced in association with top quarks and decaying into bb̄ in pp collisions at √s = 13 TeV with the ATLAS detector , The ATLAS Collaboration, ATLAS-CONF-2016-080
ATLAS Job Transforms: A Data Driven Workflow Engine, G. A. Stewart, W. D. M. Breaden Madden, H. J. Maddocks, T. Harenberg, M. Sandhoff, B. Sarrazin, Journal of Physics: Conference Series, 513(3), ATL-COM-SOFT-2013-056
Search for charged Higgs Bosons decaying via H+→τlep.+ν in tt events at √s = 7 TeV in ATLAS, W. D. M. Breaden Madden, glathesis:2012-3752
Search for a charged Higgs boson decaying via H+→τlep.+ν in tt events with one or two light leptons in the final state using 1.03 fb-1 of pp collision data recorded at √s = 7 TeV with the ATLAS detector, The ATLAS Collaboration, ATLAS-CONF-2011-151
Search for a charged Higgs boson decaying via H+→τlep+ν in tt events with one or two light leptons in the final state using 1.03 fb-1 of pp collision data recorded at √s = 7 TeV with the ATLAS detector, L. Barak, W. Breaden-Madden, E. Cheu, C. Collins-Tooth, A. Ferrari, M. Flechl, E. Gross, J. Groth-Jensen, S. Hattrem Raddum, A. Madsen, P. Mal, K. Nakamura, D. Pelikan, D. Quilty, A. Read and M. Wright, ATL-COM-PHYS-2011-532
LHC status (OP Vistars)
Other links